Detailing
Our automotive detailing services are the best in town.  The Ultragloss Detail Department is experienced and highly skilled in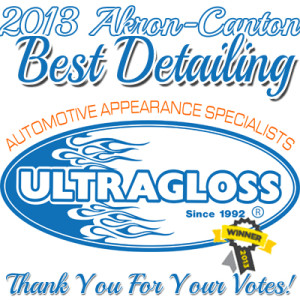 their craft.  The provide a quality service and have the ability to restore factory paint utilizing their exterior paint correction process.
We offer a variety of detailing services to match most budgets.  Our detail pricing is determined on a case-by-case basis.  After all, the person who receives regular details and keeps up their interior should not pay as much as the person who gets an annual detail and virtually lives in their vehicle.
Exterior Detailing
We offer premium washes, buffing, claybar, and protective wax sealants.  Our detailers remove all of the surface contamination from your vehicle before adding any protective sealants or other products.  When we buff vehicles, we do not leave behind swirl marks or other amateur imperfections behind.
Premium Wash and Touch Up
Starting at just $89.95, our premium wash and touch up service removes all contaminants from your vehicle adding a nice shine and then touches up stone chips and other small imperfections throughout the vehicle.
Complete Exterior Detail
Your car will sparkle after our complete exterior detail service. We'll give your vehicle a premium wash, claybar, buff, and wax sealant with our specialized Ultragloss processes and products that bring out the best in your finish.
Exterior Paint Correction
Does the color of your vehicle look faded even after washing? Instead of paying hundreds and thousands of dollars for a complete paint job, consider our Exterior Paint Correction service. Our specialized technique restores your finish similarly to when you saw it on the showroom floor.